Europe
G-SIM/Global - Independent yet globally networked
April 20, 2018
G-SIM/Global is the further development of G-SIM, Geutebrück's Security Information Management - only that it transcends spatial boundaries. With G-SIM, complex video systems and processes can be easily managed and operated. It bundles and overviews all information and data of the Geutebrück world and all connected third-party systems.
G-SIM/Global goes one step further. It manages a complex system that is spread over several and widely distributed locations. Independent G-SIM installations are linked to form a large overall system. Triggered alarms and necessary searches can be checked and executed centrally from any location. Users can even access cameras, site plans or process data of their plants across countries and continents. The highly sensitive systems remain independent, but are networked with each other. Simultaneous access to the setup interface is possible to optimize or reduce the configuration time.
G-SIM/Global is suitable for flexible use in the security sector, in logistics or in the event of a disaster.
Find out more about G-SIM/Global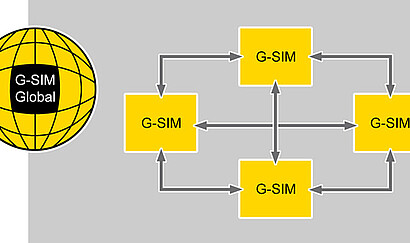 Back