Europe
Robust, small power package with the memory of an elephant and the eyes of an eagle: The mobile video management solution G-Scope 500+
April 06, 2018
Windhagen, 5th April 2018 - The network video recorder (NVR) G-Scope 500+ is mobile, lightweight, compact, powerful, can see everything and has an enormous memory of up to 4 TByte. It visualizes and stores logistics processes, such as in or on trucks, forklifts, micro-hubs/micro-depots, ocean containers and rail freight transport. The mobile video management solution is also suitable for monitoring cash transports, police vehicles, trains and buses. The device is officially certified for mobile use in and on vehicles (EN50155 and EN50121-3-2).

It is recommended wherever images are used for monitoring and process optimization. In forklifts, loading processes can be documented, stored and retrieved in combination with a scanner. It provides similar benefits in the micro-hub, the innovative transshipment point for last mile delivery. There, it keeps track of package movements, times and access rights. In the truck cargo space, the G-Scope 500+ can monitor the load even while driving. To determine the position of the vehicle, the GPS module of the G-Scope 500+ detects the coordinates of the vehicle, stores them and, together with the image information, transmits them to the control center via the LTE connection.

The staff in the central control room has live access to the video of the cargo space at all times. The seamless documentation of risk and liability transfers provides valuable cost savings. With the help of the recorder, thefts and the causes of damage can be resolved quickly.

Weighing a mere 3.3 kg and with slim dimensions of 240 x 225 x 79 mm, the G-Scope 500+ is easy to install. The small power package is particularly hard-wearing (ruggedized hardware). Thanks to its passive cooling technology, it is reliable at temperatures between -25°C and +70°C and air humidity of 10 to 90 percent. Windows 10 and GPU acceleration ensure that the video images are processed optimally.

There can be up to a maximum of 32 video sources. Depending on the device version, up to 4 cameras with M12 x-coded connectors or up to 8 cameras with RJ45 connectors can be connected to PoE ports (Power over Ethernet). The Power Ignition Control defines for how long the device continues to run/when it shuts down once the ignition is switched off.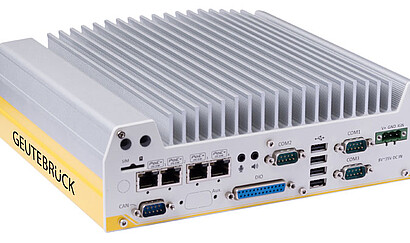 Back