Geutebrück security - modern solutions require modern
learning

Competent trainers near you – on the pulse of the SME sector

Optimum preparation through interactive online modules available anytime

At your side wherever you are, with offices and partners on five continents
Security does not only mean having a product or a solution, but also being able to handle it optimally.
What is the Geutebrück Academy?
For us, helping you get to grips with the use and operation of our video technologies and video management solutions – so that you and your employees can really make the most of what Geutebrück security has to offer – is all part of our service. The Geutebrück Academy is a central point of contact for any questions you may have about learning, training and further education.
Our job is to:
Prepare learning media, training content, visuals and materials;
Create, maintain and provide access to learning media in the Learning Management System (LMS), and to manage this system;
Organise, carry out and support all face-to-face training
Who could benefit from our training? (target group)
Regardless of how much prior knowledge and practical experience you have, we'll meet you at your starting point and deliver the learning content that you and your team need to get the best out of our video security and surveillance solutions, covering everything from the technical basics and efficiency tips to administration. Generally, our courses for technicians differ from our training for system administrators and users.
How are the courses structured? (concept)
The topics and content we cover in our courses are designed to build on prior learning in sequence. For this reason, we require you to take our courses in a specific order; you'll also need to meet certain other requirements in order to participate. We provide certificates as evidence of the knowledge that you've acquired.
Modern surveillance technology requires modern learning:
Our online training phases, which take place just before the start of an in-person or virtual presence course, allow us to get a good idea of the current level of each participant, as well as giving you an opportunity to quickly get new employees and trainees up to speed with the basics of video surveillance technology and specific Geutebrück security solutions.
This combination of prior self-learning in interactive multimedia learning modules, followed by a multiple-day (in-person or virtual) course designed to build on this learning, is known as blended learning. Through blended learning, we enable your team members to acquire the basic knowledge they need whenever and wherever they want (you complete your learning at a time that suits you, in any location, at your own pace and to fit in with your own work schedule) while also benefiting from the knowledge and guidance of experienced trainers during face-to-face, in-person training. This presence can either take place at one of our locations in Berlin or Windhagen, or in the form of virtual participation.
Who are our trainers?
Although our training is designed by the relevant specialist department, the courses are actually delivered by colleagues with experience in technical service and project management. Our trainers know the sector and Geutebrück security products and solutions inside out, thanks to their many years of experience – and the fact that they use our products day to day, working directly with our customers.
Where does training take place?
The in-person events that builds on the e-learning phase take place regularly, either at our headquarters in Windhagen or at our office in Berlin. Alternatively, we have also been offering virtual participation in the in-person events since 2021. In this case, the participants are connected to the trainer virtually by means of modern video conferencing technology. In this case we speak of a virtual presence.

Regional trainings, or trainings at your company, can be offered as an option. Due to the geographical distance, we offer trainings abroad either through our local partners (according to Geutebrück specifications and standards) or as a regional event with our own trainers.
Are there any differences in content between on-site participation and virtual participation?
In the context of the massive restrictions caused by the Covid-19 pandemic, we have again adapted our trainings and thus optimized them according to the "new-normal".
While the original division of e-learning phase and face-to-face event also meant a division into digital and analog, we would now like to offer you the option of purely digital training. Instead of traveling to the face-to-face event, we offer you the opportunity to participate live in the training using modern video conferencing technology and to interact with our trainer and your fellow participants in exactly the same way as you would on-site. In virtual training you also have the possibility to access prepared servers and to reproduce the work steps in our software live.
To book a training with virtual presence, select "virtual" under "Location" in the registration form. Shortly before the start of the training, you will receive the corresponding access information from us by e-mail.
If you have any questions about this new concept and its implementation, please do not hesitate to contact us!
Is custom training available?
We would be happy to provide custom training for your employees on request. This kind of training can be arranged as part of the handoff or commissioning process if required. Custom training is a good option for major projects involving a large number of end users and custom applications for your security and surveillance solutions.
What do the certificates mean for me as a participant?
After participating in one of our courses (comprised of an
online and in-person phase), your learning will be documented on a certificate. Annual recertification will ensure that your solution knowledge is always fully up-to-date. Under our partner and service contracts, you must purchase specific services from us in order to benefit from employee certification (see Service levels).
Why incorporate an online phase with e-learning modules?
If you've ever taken part in training or completed a course, you're sure to have encountered a situation where the group members all have different levels of prior knowledge. In these kinds of cases, the gap between those people who ask a lot of questions and require a lot of explanation from the trainer, and the people who find themselves bored and gain very little additional input from the training, constantly grows wider.
With web-based training, which is provided to you in bite-sized modules in advance, we can ensure that all training participants have reached a similar level of knowledge by the time the in-person training begins.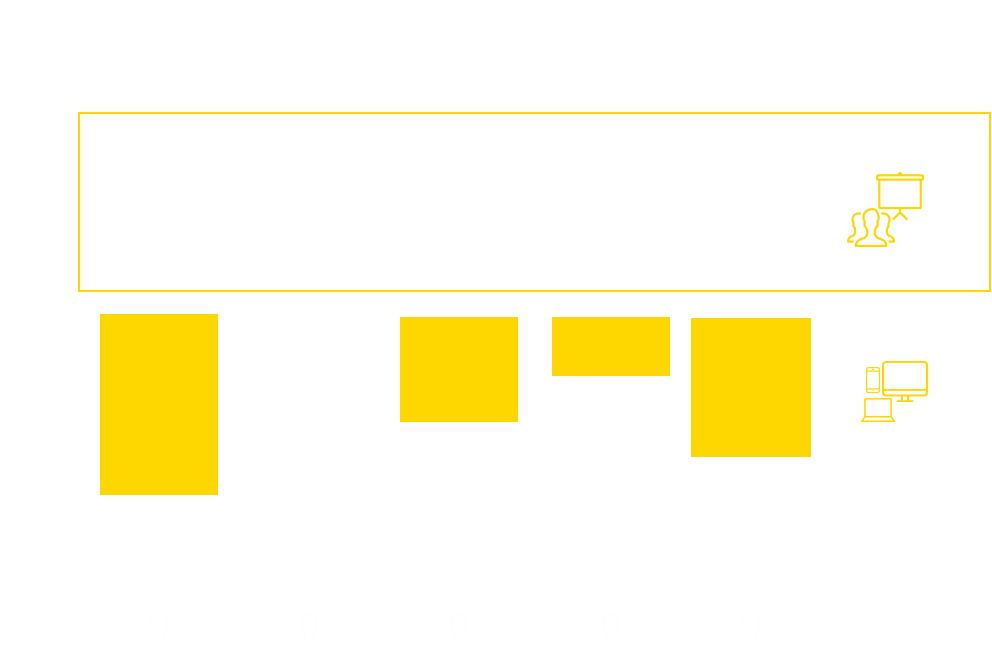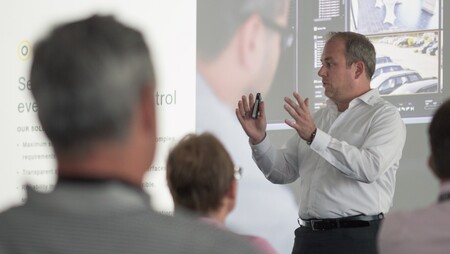 G-Core
Technical Training
Learn about the platform behind all GEUTEBRÜCK security systems – the G-Core software – in detail. Find out how to perform a basic system configuration, how to start a recording with connected cameras and how to ensure that the right images are displayed at the right time. During the online phase, we will introduce our company and basic information on our video management technology and software, which you will need during the in-person training. During the in-person training, you will work with the G-Core software to commission a recorder, using a practical example as a starting point.

More information
Registration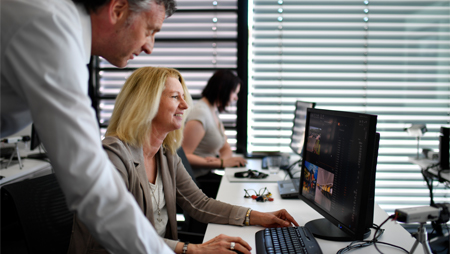 G-SIM
Technical Training
Learn about the flexible, scalable management solution for your security infrastructure and process documentation. Find out how to configure G-SIM to make your work easier, to highlight areas for potential optimisation and to get the most out of the system. During the online phase, we will introduce basic information on the software, which you will need during the in-person training. During the in-person training, you'll use a practical example and the recorder configuration you worked on during the G-Core training to commission G-SIM.

More information
Registration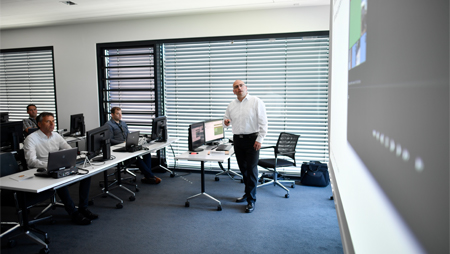 VCA
Technical Training
Intelligent video systems are capable of independently recognising relevant information and displaying it to you exactly when you need it. They monitor all of the required areas and ensure that you don't miss anything important. Find out which video analysis methods GEUTEBRÜCK offers and how you can program these algorithms to suit your precise needs. During the online phase, we will introduce the basics of our analysis methods. During the in-person training, you'll use a practical example and the recorder configuration you worked on during the G-Core training to commission the various algorithms.

More information
Registration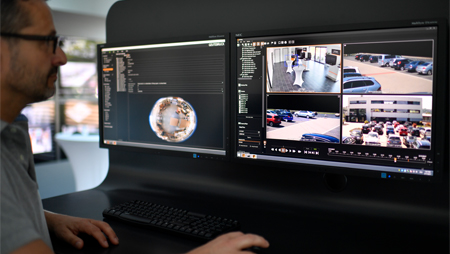 G-Core/G-SIM
User Training
You will get to know the user interfaces of your GEUTEBRÜCK system in detail. Learn how to operate the G-View (G-Core) and OpCon (G-SIM) software so that you can get the maximum benefit from it. You will switch on cameras, work with alarms, export image data or compile all relevant images for a search. In the online phase, we introduce you to the company and basic knowledge about video technology. You will also learn the basics of the software. You will need this knowledge in the presence phase. In the classroom phase, you will then learn the individual steps in the user interface. You will work with the system in the same way as you use it in your everyday work.

More information
Registration
The online phase of your training can be completed whenever it best suits your schedule. All of the content is available on our eLearning platform.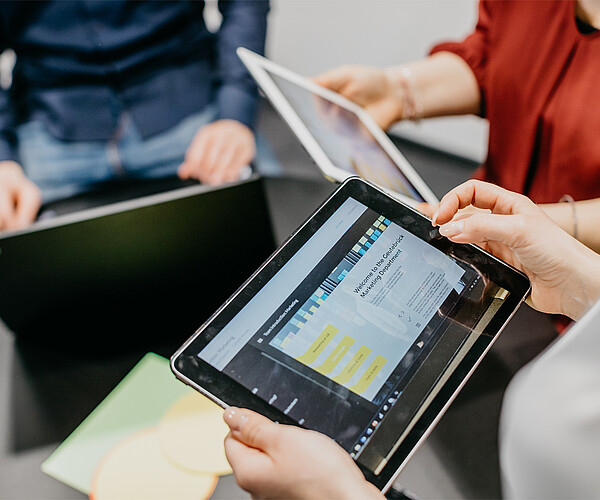 The Online-Academy LearninG
... is a platform (also known as a learning management system) that hosts videos, web-seminar and web-based training. WBT is comprised of short, interactive modules that provide you with all of the relevant learning content you need to successfully participate in one of our in-person training courses.
In addition to videos and web-seminar, the Academy also contains a catalogue of other content that you can access whenever you want. Via the button, you can take a look at one of our basic modules on video technology. This module is ideal for helping new employees familiarise themselves with the topic of video technology for the first time.