Aktuelles
Gasoline theft, shoplifting or assault: Prevention and education Security for your gas station
October 14, 2018
Increasingly, drivers are filling up without paying! Since 2010, the number of individual offenses has risen each year from 78,070 (2010), to 85,065 (2011) to 89,769 (2012) and 91,578 (2013) cases of gasoline theft registered by police in Germany. This is an increase of 17.3% in four years. The average clearance rate in Germany is 43.1 percent (source: Die Welt, focus.de). The situation is similar in many countries of the world, with a rising price of gasoline directly related to the number of offenses. Unfortunately, gas station shops, equipped like mini-supermarkets with openings times late into the night are also confronted with increased incidents of theft and even robbery. A professional, system-wide security concept, the image quality of the embedded video security system and perfectly coordinated data exchange between the individual systems are critical factors for the prevention and investigation of these offenses. Our solution secures your work processes and provides help, not just after the incident has already happened.
The advantages at a glance
Gasoline theft, don't let it happen to you!: A quick glance can save you money. Your video analysis automatically shows who wants to fill up at your station. You can decide whether fueling can take place without asking.
Razor sharp: Megapixel camera pictures show you every last detail. You can see immediately who you're dealing with – a regular customer or a masked stranger with an illegible license plate number.
Securing evidence: Your cashier system controls image storage – perfectly aligned interfaces in a homogeneous overall system. Everything is documented, with no gaps. No tedious searches – find each operation in seconds .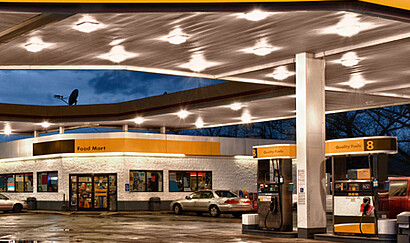 Back