Aktuelles
Reliable, trustworthy and competent Video security in government institutions, for ministries, agencies, embassies, consulates
November 11, 2018
State institutions worldwide have always been of special interest to the public and have a strong symbolic nature for citizens. Protection and security are the top priorities. The requirements on the security officers, the personnel and the equipment used are therefore particularly stringent. But before implementing your system, you are responsible for performing a comprehensive risk analysis in each area and developing a well-planned security concept that allows the security personnel to utilize the equipment in order to be in complete control of any possible situation. GEUTEBRÜCK video security systems offer reliable and efficient hardware and software components that can be used modularly and freely configured to effectively complete your security concept.
For each security requirement, the most effective video solution:
The guiding principle for our products and your guarantee for the highest quality

The highest performance, best image quality, simplicity, reliability and flexibility for your individual requirements – this is what we expect from the consistent, continuous development of all our products. Image capture and transmission, image processing and recording, system management and operation – we are guaranteed to have the right video security solution for you.

G-Tect video analysis algorithms – your electronic security, who never tires

Our G-Tect video analysis methods are specialized in different ways. "Simple" motion detection indoors, extremely fast detection of individual objects outdoors or object-oriented 3D detection for particularly difficult outdoor conditions. You decide what triggers an alarm, where, how, when – your electronic security guard detects the alarm in any weather, day and night.

Our built-in usability experts – you have total control.

Thanks to open interfaces, our G-SIM security information management system brings all your security systems "under one roof". You get all the information of all systems, optimally prepared, clearly arranged, at the right time, with images and graphic maps, and with the right controls. You can take action with confidence because you always have the perfect overview of the situation.
Examples of our solution modules for government institutions
Highly effective perimeter protection
Access control: you always have a clear picture of who is on your premises
Access control – optimized for security
House & building management
Data protection and privacy rights – safe guarding without observation
Information and alarm management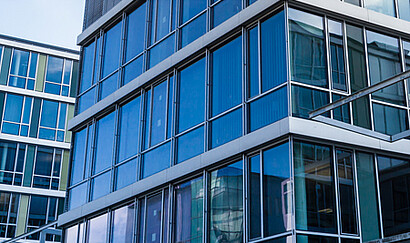 Back