Future Stories
Super Speedy: Video Track and Trace Saves a Whole 98 Hours' Worth of Package Tracing Per Month
November 25, 2018
Almost six minutes to locate a single package. These 345 seconds can have severe economic consequences for a courier, express and package service provider. When viewing the overall context, it is clear that even when there is a daily volume of 16,000 dispatched packages and only 0.5 percent of these need to be traced, the time taken to do this adds up.
Locating Packages: Plan with an Additional Full-time Role

If we look back on our previous example of six minutes to locate a single package, this equates to 7.67 hours of package tracing over the course of a full work day. That is almost a full day of work for one person. Calculated examples for a working week (38.33 hours spent locating packages) or the entire month (161 hours) make it clear that a technical solution not only pays off, but also that order peaks can only be managed efficiently with the help of track & trace applications like G-SIM/VTT from Geutebrück. In the current scenario, the courier, express and package service provider has a conveyor belt with a length of 150 meters that is run at a constant belt speed of 2m/sec. A package is first recorded at the incoming goods point. This process is carried out through image capture and a scanner. After this, the package is placed on the automatic conveyor belt and transported to the goods issue point. If they package gets lost on its way to the goods issue point, then the first step is to find out which path was selected for precisely this package when it was processed through the incoming goods point. This is the only way to ensure that the search can be carried effectively and in the right places. In a second step, all of the cameras on this route are identified manually using a tracking plan. These cameras are then manually checked. Biggest time killer: The user does not have just one possible package route to search through, instead they have several options, which also means that there are several cameras to check. In the classic scenario, the package that is being searched for is spotted on one camera and then not seen on the next. In all probability, the package that is being searched for will be located of the route between these two cameras and may have fallen off the conveyor belt, for example. If employees are trained, a quick search lasts for 345 seconds – the time mentioned at the beginning of this document. In the event of unexperienced employees, long conveyor belts, complicated routes or a mixture of all of these factors, the time taken to locate a package can be much longer.
You Specify What You Want – We Handle the Details

A fundamental distinction is made between whether a package service provider wants a newly constructed hall to be equipped with modern technology, or, as is the case in our example, whether they want a technical upgrade to be implemented during ongoing operation. In the first scenario, the technical solutions can be defined, planned, installed and put into service right from the start using specifications from all involved sub-contractors. Ideally, this whole process will be managed by an expert team from Geutebrück. Companies with developed technical structures are generally unable to simply stop production for an installation. In this case, the experts establish how the urgently required video track & trace concept can be integrated into the specific application while taking into account all existing parameters, such as the IT environment, process data or the degree of automation. The first factor to consider is the existing hardware: Customers that want to equip their logistics centers or warehouses with the G-SIM software solution can use their existing computer and preferred hardware for this. Depending on the desired service and the area to be monitored via video track & trace, this can be a server for a few cameras or a high-performance service cluster, which provides the required performance for video tracking by hundreds of cameras including video analysis and monitoring.

Locate Packages More Quickly and Also Increase Output

Geutebrück creates a tailor-made video track & trace solution based on G-SIM for the courier, express and package service provider. All of the image-supported systems used by the courier, express and package service provider can not be operated via the G-SIM software. In this case, the solution not only incorporates the data from the G-SIM application, but also all data from connected peripheral devices from third-party providers. Using the G-SIM VTT solution, employees in courier, express and package service centers or at logistics companies can trace lost packages with the aid of cameras. This has significant potential to speed up searching processes and for internal quality management. This enables weak points in the automation process to be detected more easily.
Complete Display thanks to the Delay

G-SIM/VTT is ready immediately after the hardware and software is installed. User rights, roles, filters and individual layouts can be defined. After these parameters have been defined, the search for a lost package can be structured easily using "Linked Layouts". Put simply, this means that each user can group the camera displays that are relevant to them on a large monitor. This can involve individual belt sections or complete displays for responsible shift managers. Depending on the configuration and requirements, the user sees the camera group that they need on their monitor in a linked layout. There is no longer any need to manually switch from camera to camera.

Users can also identify the status of a package throughout the entire transport route with visual provided by various cameras from different perspectives. The laborious and time-intensive inspection of the entire video material is no longer necessary. Traffic jams or technical defects can also be identified, along with faulty shipments and thefts. G-SIM transforms the tracking of goods shipments into a simple and efficient task and helps companies not only to understand all of the processes in a supply chain, but also to improve on these processes.
The System Grows with Your Requirements

G-SIM can be scaled to suit any user – from small companies to large corporate groups or public institutions with complex, large areas. The high computing power combined with a wide range of configuration options for user rights, interfaces or alarms enables a future-oriented video track & trace solution, which also provides clear video evidence that can be used in a court of law.

In total, the introduction of VTT can reduce searches by 3.5 minutes per employee and per package for the courier, express and package service provider. Using this solution, a medium-sized business was able to increase its output while maintaining the same level of quality, and also saving 98 working hours per employee. When calculated on a monthly basis, this equates to a remarkable 2.5 working weeks for the entire workforce and works out as a significant plus in the balance sheet.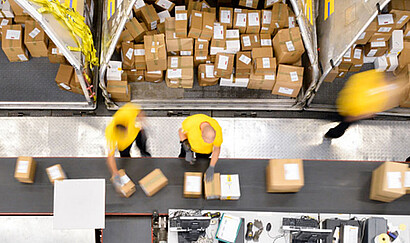 Back