Aktuelles
Transparency of vehicles and processes Automated yard management
December 09, 2018
Automated yard management
Time is money: This is especially true for optimal processes on your yard. Long waiting times at the entrances are not only inefficient, they can also lead to irregularities and blockades. Do you always have an overview of all the vehicles on your premises? If parking areas and maneuvering areas are crowded, unauthorized vehicle stays (truck breaks) are often the reason. A further challenge includes irregularities at the entrance and exit: Are the swap bodies correctly assigned? Was the seal damaged when entering the site?
How it works: Automated yard management
You have a complete overview and control of all vehicle movements on your premises. Our system automatically records the number plates of cars and trucks at the entrance. In addition, using plate and trailer numbers, you define the permissions that a vehicle receives on your premises. In this way, you document all vehicle movements without gaps and can react directly to irregularities – such as lengthy stays. In addition, you will receive visual proof of the condition of the truck at the entrance and exit, for example, about the seals or damage to the vehicle. Automation makes your yard management more efficient, reduces waiting times and reduces the workload of your staff. Outdoor cameras combined with our intelligent video analysis also protect your premises from intruders.
Download: Overview of our solutions
Automated yard management in detail
Entrance and exit
Optimization of waiting times
Automated access and exit
Efficient management of trucks
Transparency regarding volume and length of stay
Visual evidence, for example, of seals
Premises
Control of vehicle movements
Overview of vehicles on the premises
Visual evidence of damage
Documentation of vehicle length of stay (truck breaks) Security for critical areas
Perimeter protection
Protection of employees and property
Security from intruders
Overview, even for spacious areas
Interfaces for access controls, intruder detection systems, etc.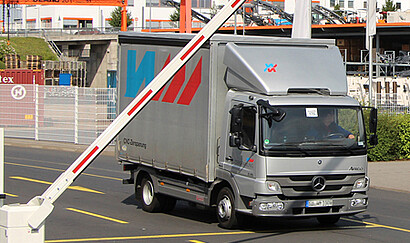 Back