Europe
New MBeg+ Control Unit by Geutebrück
June 12, 2019
Geutebrück, supplier and developer of powerful security software and the matching hardware, introduces the new control unit "MBeg+" to the market. The control unit offers an individually configurable multi-touch color display and 16 individually programmable function assignments of the key buttons. The 3-axis joystick to the right has a built-in zoom/focus function, while the jog shuttle to the left allows simple navigation through video footage.

Geutebrück first releases a firmware that is MBeg/GCT compatible and that will prepare customers for migrations from GeViScope and G-Core. The second step is the integration into the G-SIM software, which provides numerous additional functions. In early 2020, the multitouch display will be equipped with additional control options as well as access to cameras, tours and maps, and the processing of alarms.

The new MBeg+ requires Power over Ethernet or USB. The additional jog makes the new 382x160x68 (WxDxH) device only slightly larger than its predecessor and allows it to be installed conveniently in tabletops.
For more information, visit the Geutebrück Shop.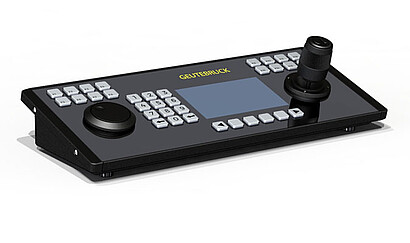 Back