Whitepaper
Change as an opportunity – Logistics in the virtual world
January 15, 2019
Whether digitalization becomes a curse or a blessing is in the hands of those who are pressing ahead with it but preparing the ground for this development is up to all of us. It's not easy – digitalization is probably the most frequently used word today – but how is it implemented? Ultimately it's not just about any old process. The talk is of a Herculean task across generations. What does this mean for the logistics industry?
For many logistics firms, preparing the ground for the digital age means, first and foremost, getting to grips with the jungle of terminology. What exactly is digitalization? What is its relationship to Industry 4.0, Big Data, AI or Blockchain – terms which are on everyone's lips at the moment, but whose meaning isn't actually obvious at all? All of this plays a role in digitalization, which in fact presents more opportunities than risks for the logistics sector. Hardly any other industry is as varied and can therefore have a greater positive influence on the economy and society. Provided we know what we're talking about, what we're doing or we get the right advisor on board!

For (too) many players, not only in logistics, digitalization is still an abstract concept which is difficult to grasp, even today. Why? Even major figures in politics and business limit themselves in communication to the all-encompassing world "digitalization" – which doesn't say anything and yet somehow means everything. People who start to read up on the subject soon reach their limits. Informative articles turn into series, and companies form working parties dedicated to this topic.

Anyone who puts digitalization on the agenda should know precisely what it means. Because even a quick look through the various regulations shows that it means a lot more than the oft-quoted expansion of broadband and the network. If you dive deeply into this subject – and in the long term no logistics firm will be able to avoid doing so – you will soon be confronted with a host of technical terms that are very difficult to comprehend for laymen.
Adjustments are nothing new for logistics pioneers
In many logistics companies, digitalization has already made great strides in the form of analytical tools, such as the "digital service cost analysis" or "descriptive analysis". These are often supplemented by diagnostic analyses which examine causes, effects and interactions between events, circumstances and trends. These can in turn form the basis for new digital business concepts. Logistics firms which have so far nodded wisely, have sufficient knowledge to explore topics such as digital manufacturing or smart factories in greater depth. Factories in which predictive maintenance – i.e. planned to service – is already a reality. And anyone who wants to venture deeper into the digital jungle should get to grips with digital security – for their own good. Because in the 21st century, no supply chain segmentation could function without it. The same also applies to Risk Management, which enables companies to understand and avoid delivery bottlenecks and production downtime. Knowledge communication already occurs with increasing frequency today on the Internet of Things (IoT), which in future will network almost everything and everyone with one another.
The future belongs to the Cloud
In logistics firms, the IoT can, for instance, help driverless assistance systems to learn from their own mistakes and create maintenance plans from the knowledge generated – including smart spare parts ordering, of course. In the age of digitalization, it's not at all far-fetched to imagine that the technology used will one day register itself independently with the TÜV. Part of the digital journey which each company will have to embark on to remain competitive is also a profound knowledge of metrics and performance management. Key indicators and measurable parameters in daily work will be captured. If you've internalized all these points, you can look even more deeply into the subject with Supply Chain as a Service Architecture (SCaaSA) or Supply Chain Management Business Process as a Service (SCMBPaaS). These include outsourced and cloud-based solutions, amongst others, which can be used by multiple license-holders. Of course, to do so also requires high-performance cloud services. According to the experts, the future will be determined more than ever by licensed rather than purchased solutions. If you haven't lost track by now, you should be pleased about one thing: Supply Chain Visibility (or Transparency) is at least one topic which we already know about from the more recent past. And that's a good thing!
History proves that nothing is impossible
Supply Chain Visibility is symbolic of everything that was once a great unknown, and today is part of normal everyday logistics. The logistics industry has already faced major challenges once – and has conquered them. Of course, it wasn't easy at the time! Partly to comply with official regulations, partly due to market requirements, we arrived at what is today known as a visible, or transparent delivery chain. It made it possible to understand for the first time where and when a product had set off – at a time when it was not in any sense standard, to track HGVs via their number plates. This has also enabled us to collect physical data such as temperature or humidity parameters in HGV loads. Guidance through large areas or a controlled approach to ramps with the aim of reducing waiting times has not been automatically available for decades. In exactly the same way as computer-assisted dispatch management, which is standard nowadays, for avoiding planning errors. The introduction of virtual proofs of sealing could be described as almost revolutionary, yet this now is part of every trusting customer-supplier relationship. A great deal of importance is placed upon security these days, for instance with video-assisted yard management, and it happens on every kind of site: from a small, easily managed yard up to enormous areas which no-one could oversee with the naked eye alone. Not to mention 24/7 surveillance – often nowadays possible through high-quality video recordings. The measures taken once to establish supply chain transparency can be pursued indefinitely, and have only one aim: to ensure the safety of goods, people and materials with a simultaneous improvement in efficiency.
Even today, what counts is that people are willing and able to understand and accept the foundation stones of a digitalization strategy, and to implement them with a positive attitude. For instance, to advance a logistics firm in various different areas. Because there is no other way – digitalization is an unstoppable force. It follows its own rules and has its own rhythm. The fact that many firms have not been willing to acknowledge this fact has led to the current situation where it is not only logistics people who are going back to school. This is immensely important, as coverage in the logistics trade press shows how hard even experts find it to cope with the digital landscape and its strong momentum: for instance, MM Logistik online reports that: "A survey of almost 350 Supply Chain and Operations experts shows that 95% of those questioned cannot fully exploit the benefits which physical, informational and analytical innovations offer." To replace this uncertainty with specialist knowledge is only one part of the Herculean tasks which all logistics specialists must face up to – and quickly.

Thinking outside the box
It may be that the Chinese are amused at the (lack of) speed of digitalization in Germany. But the smiles soon fade when you compare the quality of "Made in Germany" with a Chinese label. "Made in Germany" is an absolute commitment, and it is so good because the people behind it are so good: and Germany can count itself amongst the best again when it comes to digitalization. What it needs, however, is a little time and in some places definitely some persuasion work. Once this hurdle has been overcome, knowledge can be passed on and trust will develop in the multitude of new technologies and future concepts on offer. Without willingness and trust it won't happen – it's no use scaremongering, spreading the fear that digitalization and the Industry 4.0 standard might put 50% of industrial jobs at risk. Anyone who doesn't get their staff "on board" today shouldn't be surprised if they set themselves against digital options. But if the digitalization process can be successfully and astutely introduced in logistics, at a "healthy" pace across all age ranges, the necessary trust will be created. Starting at Board level, through financial controlling and IT or technology, right down to warehouse employees and the truck drivers behind the wheel. Only then will it happen: the constantly developing digital age sparks an industrial revolution in which machines are in a position to learn, but human beings are the ones who decide WHAT is to be learned. Today, tomorrow and in the future.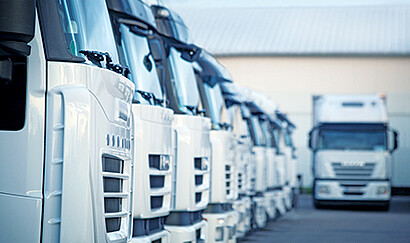 Back