Future Stories
Video solutions in pharmaceutical logistics: data protection given top priority
February 11, 2020
Drug manufacture, logistics and picking are sensitive topics - and not just in terms of safety. The pharmaceuticals logistics centre in Ljubljana, Slovenia, shows just what herculean tasks can be handled in the pharmaceutical sector. In the future, the Swiss pharmaceutical giant Novartis will store and handle medicines and medical devices within the 90,000 m² floor space and estimated 40,000 m² storage area. So how is it possible to transfer thousands of storage units or SKUs (stock keeping units) from the lorries safely and undamaged each day? How do they keep an eye on tens of thousands of square metres? How do outer cartons and folding cardboard boxes arrive safely and intact at their warehouse? Who monitors the whole thing and what happens to the data generated during these operations? We are seeking out the answers...

Some of these questions will be answered by the new directive on the serialisation of medicinal products, which will come into force in 2019 to increase counterfeit security. This European pharmaceutical directive - known as EU/2011/62 ('Falsified Medicines Directive') - will allow drug manufacturers to make provisions for safety and clear, individual identifiers of their medicines by next year. From then on, every package unit of a prescription drug in Europe will need to have a unique identity with a globally unique number. This sequence of numbers is automatically printed on each individual package in the form of an individual identification number as a machine-readable 2D code. At the same time, every numerical sequence must be stored in a central database by all manufacturers. When the drug reaches the pharmacy, the pharmacist can use a scanner to read this information and check it via an online database. Only if the data match, is the drug genuine and may be issued to the patient.

Globalisation: Increasing safety requirements for logisticians

This IT-based solution protects pharmacists and patients alike from counterfeit drugs. If a logistician wants to (voluntarily) join the process of serialisation, he must invest in the appropriate software and hardware. Regardless of serialisation, many logistics companies already rely on video systems today to monitor the handling of valuable cargo at terminals and warehouses. As global commerce grows, video surveillance will continue to grow in importance to deal with the consequences of complex globalisation.
The fact is that logistics centres - such as in Ljubljana in Slovenia - will emerge everywhere as a link between global production facilities and world markets and continue to call for logistics. This is already recognisable by the strict standards that are set for logisticians, especially in the regulated environment. Currently, almost 24% of all logistics companies (also) work for the pharmaceutical industry. For them, the guidelines for Good Distribution Practice (GDP) for medicinal products for human use are binding.

Data protection in picking

In order to make intralogistics processes more efficient and safer, many logistics companies use modern camera systems with video analysis software as the means of choice. They can be used to monitor logistics centres, including loading ramps or picking processes within stores. Modern video technology can, for example, recognise picking operations using cameras along the entire picking line to identify potential vulnerabilities. The advantage of video analysis software is that lost or misdirected folding cartons can be tracked using image data across the entire warehouse, found and transported to the correct storage location. This is made possible by the connecting image files and data to the outer carton. As a result, within a few minutes it is possible to determine at which location and time there was an error in the process. In this way, an unwrapped or deliberately removed outer carton containing a batch of valuable drugs can quickly be found and returned to the correct location.
Wholesalers benefit from such a procedure that offers more legal certainty, as systems, such as those offered by Geutebrück, can be used as video evidence in court. The importance of legal certainty: Videos can also be a means of choice in the case of word against word and pharmacists and wholesalers alike feel in the right. In that case, for example, a video will be used to prove orderly shipping to the pharmacist. This does not bring the drug to the patient faster, but it facilitates the clarification of the facts, creates trust between all involved and helps to uncover errors in the process.

Human factor as the biggest weakness in the system

Anyone using a video system in their logistics centre must, in addition to industry-specific rules from the pharma field or the food industry, pay particular attention to their data protection and the handling of personal data. The human factor is still the largest vulnerability in the system, regardless of the degree of automation in logistics centres and warehouses. Regardless of intent or oversight, the protection of personal data is an absolute must. All providers of video solutions who have designed their systems so that a simple configuration of the hardware and software environment is possible are therefore on the safe side. In concrete terms, this means that with the appropriate user authorisation, specific areas of intralogistics processes can be easily faded in or out. In addition, the authorised user determines which data is to be saved and how to handle search results. Similarly detailed parameters such as data exports or dealing with deleted data should be defined using a good software solution. The most important prerequisite in the smooth and privacy-compliant use of video solutions is therefore always correct installation. In short, those who aim for higher standards are doing everything right today and in the future within the regulated environment of the pharmaceutical industry.

Certified partners master the technology

For this reason, attention should always be focused on the choice of technical service providers, suppliers and partners. Companies offering video solutions for pharmaceutical logistics centres should bring certified partners on board as necessary. When video systems are used within the premises of a contract manufacturer or pharmaceutical wholesaler, special emphasis must be placed on data protection compliant installations and the operation of the system. Only in this way can the high safety requirements be met in the sensitive regulated environment of the pharmaceutical industry. Certified service providers know the software and hardware so well that they are able to execute a setup, so that for example, only the cameras are activated or images that are relevant to the customer's process are output. This includes the competence to introduce functionalities such as for example, setting privacy masking to configure the pixelization of areas or faces. In times of digitisation and globalisation, good technology is just one of the cornerstones necessary to meet the demands of the markets. It is at least as important as the choice of service provider. Only those who have partners who can adapt hardware and software to branch-specific conditions and up-to-date data protection standards can survive in the global environment of pharmaceutical logistics.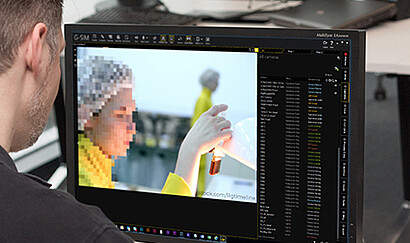 Back