Future Stories
Blockchain technology – a decision for the future of the logistics branch
January 13, 2020
Fewer errors, supply chain optimization and a reduction in fraud crimes – that's what Blockchain 2.0 promises to deliver for logistics and supply chain management. Blockchain should improve monitoring of digitized processes, protect them against manipulation and reduce delivery times by means of optimized processes.

How does blockchain technology work?
The decentralized blockchain technology system allows stakeholders to achieve data management security without intermediaries. Data exchanges in the form of payments and other transactions are saved in an encrypted and compressed format, i.e. as so-called blocks. If two parties exchange information, this transaction must first be verified by the network stakeholders: within the system, checks will be carried out to determine whether the parties have the relevant rights for the action in question at each hub, i.e. at each computer or server in the network. Following verification, the transaction will be approved and saved in a list of data records – similar to logbook. Instead of on a central server, the data are saved on all of the storage media on the network, as are updates. This means that any transaction that has ever taken place is saved on the network. The system is tamper-proof as the blocks are encrypted and copies of the data are distributed to all those working within the network. For a blockchain to be manipulated, at least 51 per cent of the copies must be changed – this is not worthwhile due to the high level of outlay in terms of effort and associated costs.
Opportunities for logistics
Shipping firm Maersk and the IT group IBM are working together in order to use blockchain for international trade. A digital platform should support companies in tracking their goods and thus in creating a greater degree of transparency on a global basis. In 2017, a pilot trial was carried out by the shipping company Maersk in collaboration with the IT group IBM, which had already implemented blockchain technology in the logistics division. Using various applications, container shipments were tracked using blockchain, with no risk of manipulation. The project was successful, meaning that logistical and contractual information will be exchanged safely and securely using blockchain in the future. The objective for the coming years is to build up a global network of freight forwarders, shipping companies, ports and customs authorities in order to reduce delivery times and therefore to cut costs.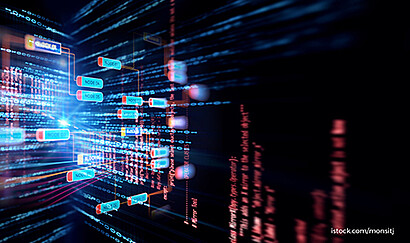 Back